Braces
Six Month Smiles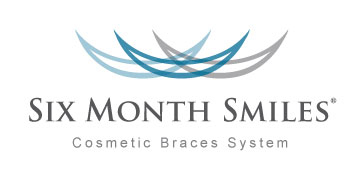 Because of recent advances in Orthodontic Dentistry, adults no longer have to feel embarrassed about wearing braces. Six Month Smiles is a great solution if you have crowded, uneven, crooked, or over lapping teeth. This cosmetic tooth straightening solution for adults borrows the best aspects of orthodontics to create a treatment which is fast and provides a reliable alternative to conventional braces.
Six Month Smiles can alleviate stigma often associated with traditional braces. Adults can enjoy wearing Lucid-Lok clear brackets and tooth coloured wires that are barely visible. These low impact wires also increase comfort, safety and hygiene.
As the name suggests, the average treatment time is of six months only – this is a 75% reduction on traditional orthodontic treatment time. Still, Six Month smiles is safe and not just a "quick fix" treatment. Patients can rest assured that Six Month Smiles is a modern twist on traditional orthodontics, using innovative techniques and modern materials. There are no more risks associated with this treatment than with traditional braces. Teeth are gently repositioned, and discomfort is kept to a minimum.
What does the treatment involve?
Consultation
We will need to check your teeth thoroughly at your Six Month Smiles Assessment, with X-rays, photographs and 3D Models of your teeth, to determine if you are suitable for the treatment.
Based on this examination, we will determine whether the Six Month Smiles treatment is right for you. We will advise you if we feel that there could be another option for treatment, that suits your needs better.
Fitting
Next, your braces will be fitted. These brackets and soft wires, will be fitted onto your teeth to target problem areas, so that they are ready to slowly move your teeth to the correct position.
Review Appointments
You will need to have regular reviews of your braces over six months. Normally, once a month.
Removal
Once the Six Months is up, you can have your braces removed and we will discuss retainer options with you, to avoid your teeth relapsing. At this point, you can opt to have other cosmetic treatments such a tooth whitening and bonding procedures, to perfect your new smile.
COMPLIMENTARY SUITABILITY CONSULTATION
For a COMPLIMENTARY SUITABILITY CONSULTATION contact our friendly concierge team on 01273 202102 who will be happy to help with any query that you may have or book your appointment for you. Alternatively, Request a Callback or send an EMAIL