E-Consultation
Digital Laboratory
With our on-site laboratory, you can benefit from same day dentistry, meaning fewer visits and no unnecessary waiting.
A range of state-of-the-art equipment allows for digital scanning and computer production of your restoration. In addition, our 3D printer is capable of generating devices that make implant treatment quick and efficient.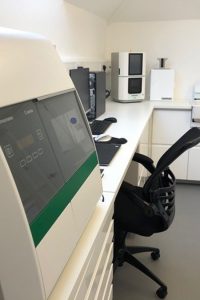 How do I get my crown in a day?
Your teeth are digitally scanned with an intra-oral scanner.
Our futuristic scanners are able to take hundreds of pictures per second, stitching them together to make a virtual 3D model of your teeth.
The scan is sent securely to the cloud where it is picked up in our digital laboratory.
Your crown is designed on sophisticated software to optimise the shape, size and appearance.
This design is sent to a milling machine, which carves your crown from a block of ceramic.
The final crown is glazed and stained before being fired in a furnace to harden it.
Your crown is disinfected and prepared for bonding to your tooth.
Find out more about our digital technology.
We cater for everyone and welcome families with children of any age. Click below to start your first class dental experience with us.
We look forward to welcoming you to TwentyOneDental, the home of 21st Century Digital Dentistry.
We look forward to welcoming you into our friendly clinic

book online
Address
We are situated to the West of Hove Museum (on the corner of New Church Road and Pembroke Gardens) TwentyOneDental, A Digitally Advanced Dental, Implant & Specialist Referral Centre, 21 New Church Road Brighton & Hove BN3 4AD.
Phone
01273 202 102
Whatsapp
07495510965
Email
hello@twentyonedental.co.uk
Opening Hours
Monday
8:00am - 7:00pm
Tuesday
8:00am - 5:00pm
Wednesday
8:00am - 5:00pm
Thursday
8:00am - 5:00pm
Friday
8:00am - 3:00pm
Saturday
By appointment only
Please note: We are open to patients arriving from 8am but our telephone lines are not open until 8.15am