E-Consultation
Emergency Dentist
We know how distressing, and often painful, a dental emergency can be, so we will always try to see both registered and non-registered patients as soon as we can.
It is important not to ignore a dental emergency as it can lead to permanent damage or require more complicated treatment and costs if not swiftly addressed.
Our emergency dentist appointments
Whether you are a registered patient or not, we are here to help and will arrange an emergency dentist appointment for you with one of our experienced and dedicated dental surgeons.
Appointments are via e-consultation or in the clinic and include a dedicated out of hours/weekend line. Just telephone us on 01273 202102, anytime 24/7.
Emergency appointments are to help relieve pain or provide essential treatment. We will be much more likely to help and/or save your tooth if you see us quickly, so call us as soon as you can.
What if I am in the vulnerable patient category?
We continue to provide emergency dental care and treatment to all patients. Firstly, you will be assisted by one of our dental surgeons via an online consultation. Whether you are local to us or not, following your online assessment our dental surgeons are then able to liaise with your local pharmacy if considered necessary, so that any medications prescribed can be dispensed to you.
If it is necessary to see you in clinic, we have strict safety protocols in place for all patient appointments and allocated areas for those in the vulnerable category.
Focused on your safety & patient care – safe in our hands
As a dedicated healthcare dental provider, we remain fully focused and continue to work extremely hard to ensure all patient needs remain in the forefront of our minds, supported by the highest safety standards, procedures and additional safety measures adopted by us here at the clinic.
It is pleasing to know how reassured all patients continue to be with our thoroughly focused approach with our enhanced safety measures in order to ensure that not only emergency patients can be seen but also to ensure that their oral health is maintained regularly including those that have new and ongoing treatments.
Feel free to check out the many reviews from patients whom we have/continue to help during and post lockdown – https://twentyonedental.co.uk/about/what-our-patients-say/
Whilst we remain in unprecedented times of uncertainty, please be reassured that as a dedicated and highly recognised and responsible provider of patient care, we shall continue to remain open in order to help, support and treat all patient's needs, including regular check-ups and hygiene.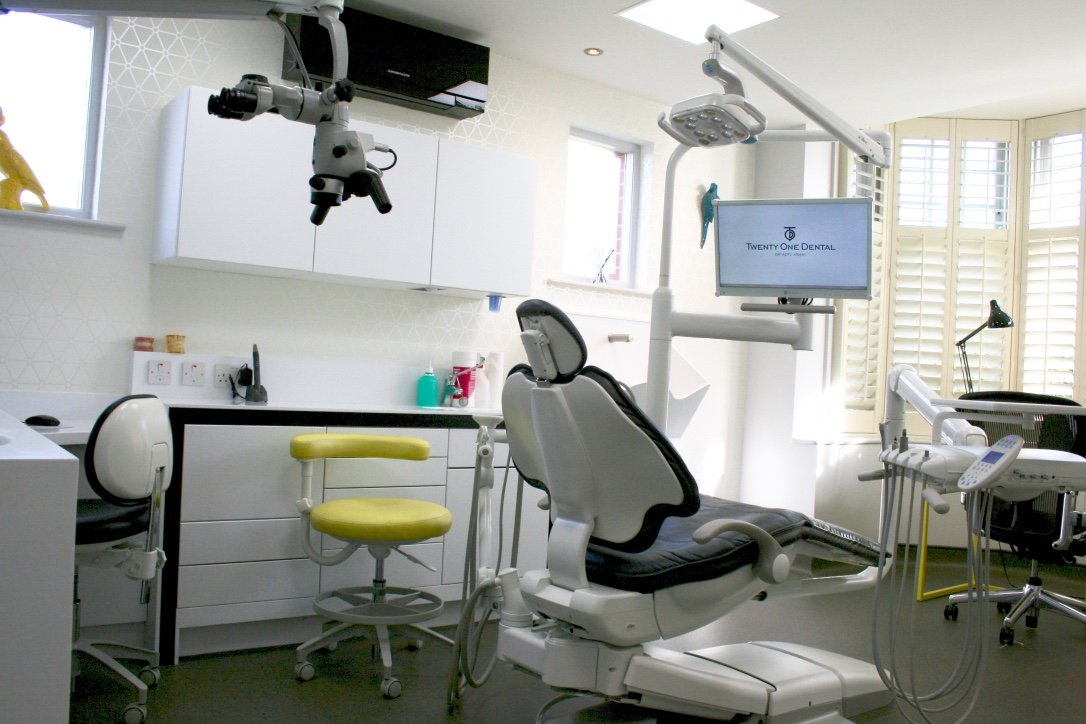 While you are waiting to receive emergency attention, the following tips may help:
Toothache – take painkillers regularly to help relieve the pain. You can use paracetamol or ibuprofen, but please remember to follow the instructions on the packet.
Lost filling – insert a temporary shop-bought dental filling material into the cavity or use sugar-free chewing gum.
Lost crown – if the crown is still intact, you can use an over-the-counter dental cement or sugar-free gum to stick it in place, but please don't use superglue.
If your crown is broken, keep all the pieces and cover the cavity in the same way as a lost filling.
Chipped tooth – keep any small pieces and rinse your mouth with warm water. A cold compress will help reduce any swelling, and you can apply a piece of gauze to stop any bleeding.
Knocked out tooth – we will be much more likely to save the tooth if you see us quickly, so call us as soon as you can.
Hold the tooth carefully by the crown (the part that would normally be visible in your mouth) and rinse gently with water, being careful not to scrub or remove any little bits of tissue.
Try to put the tooth back in position, making sure it is the right way round. If this is not possible, then place it in some milk (or water containing a pinch of salt).
Lost baby tooth – this is not normally considered an emergency unless the gum is damaged or parts of the tooth are still embedded. Child-friendly painkillers can be given and (ideally sugar free) ice lollies may help relieve pain and swelling.
Never try to re-implant a baby tooth as it could damage the new adult tooth in the gum.
An abscess – rinse your mouth with warm, salty water and apply a cold compress to ease any swelling. If you experience intense pain and swelling, accompanied by flu-like symptoms, you should go to your nearest A&E department.
BOOK YOUR EMERGENCY DENTIST APPOINTMENT TODAY – 01273 202102
We look forward to welcoming you into our friendly clinic

book online
Address
We are situated to the West of Hove Museum (on the corner of New Church Road and Pembroke Gardens) TwentyOneDental, A Digitally Advanced Dental, Implant & Specialist Referral Centre, 21 New Church Road Brighton & Hove BN3 4AD.
Phone
01273 202 102
Whatsapp
07495510965
Email
hello@twentyonedental.co.uk
Opening Hours
Monday
8:00am - 7:00pm
Tuesday
8:00am - 5:00pm
Wednesday
8:00am - 5:00pm
Thursday
8:00am - 5:00pm
Friday
8:00am - 3:00pm
Saturday
By appointment only
Please note: We are open to patients arriving from 8am but our telephone lines are not open until 8.15am