E-Consultation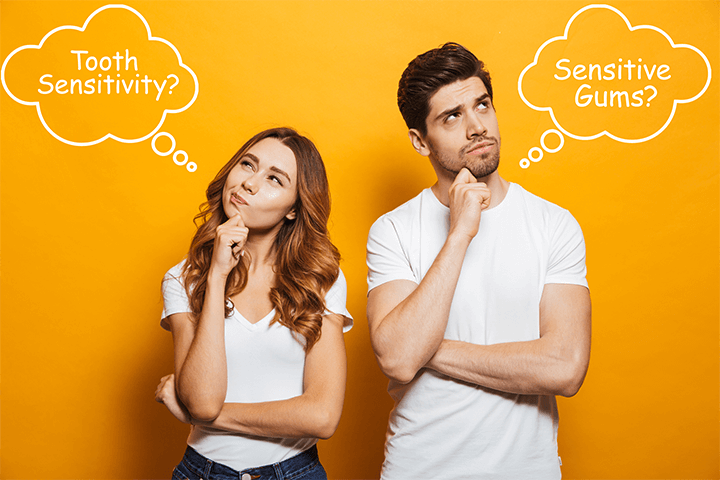 Is It Gum Or Tooth Sensitivity?
Whether you have sensitive teeth or sensitive gums, there are minor differences you need to be aware of before seeking treatment. 
Key takeaway:
Gum sensitivity is caused by gingivitis while tooth sensitivity can be caused by tooth fractures, cracks or cavities.

Gum sensitivity causes the gums to be swollen and tender while tooth sensitivity causes piercing pain when taking hot or cold foods.

Sensitive teeth can be treated by a fluoride gel while gum sensitivity may require gum grafting.
Seek the advice of your dentist regarding treatment as these conditions can worsen, causing complications. At home, maintain proper oral hygiene daily.
Read more here www.colgate.com/en-us/oral-health/conditions/tooth-sensitivity/sensitive-gums-vs-sensitive-teeth-0415
We look forward to welcoming you into our friendly clinic

book online
Address
We are situated to the West of Hove Museum (on the corner of New Church Road and Pembroke Gardens) TwentyOneDental, A Digitally Advanced Dental, Implant & Specialist Referral Centre, 21 New Church Road Brighton & Hove BN3 4AD.
Phone
01273 202 102
Whatsapp
07495510965
Email
hello@twentyonedental.co.uk
Opening Hours
Monday
8:00am - 7:00pm
Tuesday
8:00am - 5:00pm
Wednesday
8:00am - 5:00pm
Thursday
8:00am - 5:00pm
Friday
8:00am - 3:00pm
Saturday
By appointment only
Please note: We are open to patients arriving from 8am but our telephone lines are not open until 8.15am