E-Consultation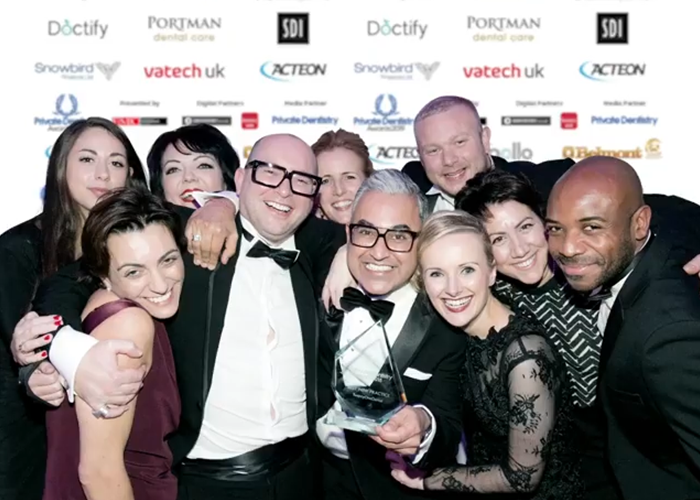 Dr Adyl Asani Talks With Dentistry.co.uk
Last year, TwentyOneDental were thrilled to have won not one, but two awards at the Private Dentistry Awards: Best Digital Practice and Practice of the Year 2020.
In an interview with Dentistry.co.uk, Dr Adyl Asani reflects on this incredible double win for TwentyOneDental, plus, why the Private Dentistry Awards are important for both the dental industry, and our patients.
How does it feel to have won a Private Dentistry Award?
It feels extremely gratifying.
Winning a Private Dentistry Award has the effect of boosting moral not just for myself but my team. It's a pat on the back to say we're doing things right. It motivates us to keep pursuing excellence in what we do.
Having won an award during one of the most difficult years in my career is testament to the hard work of my team. Also, to everyone involved in TwentyOneDental.
How did it feel when your name was announced?
It felt incredible! You never know if your name will be announced as there are so many other strong contenders.
When it was we were all elated. We had gathered at the clinic in a socially distanced manner for the awards ceremony. It wasn't quite like being there physically, but we made the best of it and enjoyed our evening.
And when our name was announced the whole team erupted in joy!
What do you think have been the main benefits of entering the awards?
Winning a Private Dentistry Award has put us on the map with digital dentistry.
It invites patients to experience our facilities in the knowledge that they will be receiving a high level of care and that they are in trusted hands.
Winning an award such as Best Digital Practice has also been a reward. It's an acknowledgement that our investment in digital dentistry has been worthwhile.
Have you entered before?
Yes, in 2015 (we won Best New Practice) and 2017 (we won Best High Technology Practice, Practice of the Year South and Best Patient Care South)
What do you think the Private Dentistry Awards are doing to standards within the profession?
Just the presence of a prestigious award can elevate the standing of a dental practice within the community and further afield.
The Private Dentistry Awards set precedence for excellence in UK private dentistry. They are a way of informing patients that there are dental teams working hard and delivering exceptional quality dentistry that they can trust.
How are you coping with lockdown and the COVID-19 crisis?
The first lockdown was a period of navigating unchartered waters.
Anxiety set in about how we were going to be able to reopen safely. During this three-month period, much work was done in order to set our own standard operating procedures and return to work safely.
Since then, we have not just survived but thrived. We have been experiencing a surge in demand for general dentistry, short-term orthodontics, cosmetic dentistry and implant dentistry.
What advice would you give people who are thinking of entering the awards?
I would say go for it. Preparing submissions and knowing which categories to enter is often daunting. However, the Private Dentistry Awards platform lets the local population know the great dentistry and patient care that you are performing.
Receiving such an accolade can boost team morale, improve team cohesiveness and elevate the standing of your practice in the local community.
Will you be entering the awards again this year?
I would like to say yes but we will see how the year pans out!
We look forward to welcoming you into our friendly clinic

book online
Address
We are situated to the West of Hove Museum (on the corner of New Church Road and Pembroke Gardens) TwentyOneDental, A Digitally Advanced Dental, Implant & Specialist Referral Centre, 21 New Church Road Brighton & Hove BN3 4AD.
Phone
01273 202 102
Whatsapp
07495510965
Email
hello@twentyonedental.co.uk
Opening Hours
Monday
8:00am - 7:00pm
Tuesday
8:00am - 5:00pm
Wednesday
8:00am - 5:00pm
Thursday
8:00am - 5:00pm
Friday
8:00am - 3:00pm
Saturday
By appointment only
Please note: We are open to patients arriving from 8am but our telephone lines are not open until 8.15am